One step in Nemesis and it's immediately clear that we've found a gem that doesn't take itself too seriously. The first thing that greets us is the portrait of an elegantly dressed Elizabethan gentleman in a strawberry – if not for the Alien-style face above his head.
More "vandalized" classical art awaits you further, including a dignified nobleman with neon yellow smoke blowing from his nostrils. For a bar that shares a name with the Greek goddess who punishes pride, this is sure to be an irreverent spectacle.
Still, we think the goddess herself would forgive them, once she tasted their fun drinks and pizzas. Launched in September on Duxton Hill, Nemesis is the latest concept from the folks behind Junior the Pocket Bar.
Led by Peter Chua and Hazel Long, the space is playfully reminiscent of a ruined temple with its Greek columns and raw concrete walls. Bartenders in paint-splattered vests prepare martini twists behind the bar, and the Italian bar's bite-size menu is printed on neon-red transparency sheets. The cheek is literal too – glance at your coaster to be amazed by a close-up of a classically bare ass.
Low-ABV is all the rage these days, and Nemesis' NoLo Aperitivo section caters to the health-conscious crowd with zero and low ABV choices ($ 19 each) that focus on fruit and fresh herbs.
There's Iaso, an herb and fennel potion with a touch of honey; go for gin or replace alcohol with Lyre's Aperitif Dry. For an easy drinking start to the evening, the Sunset Drip gives a spicy sunrise tequila twist with Shiraz Gin, spicy orange and mint.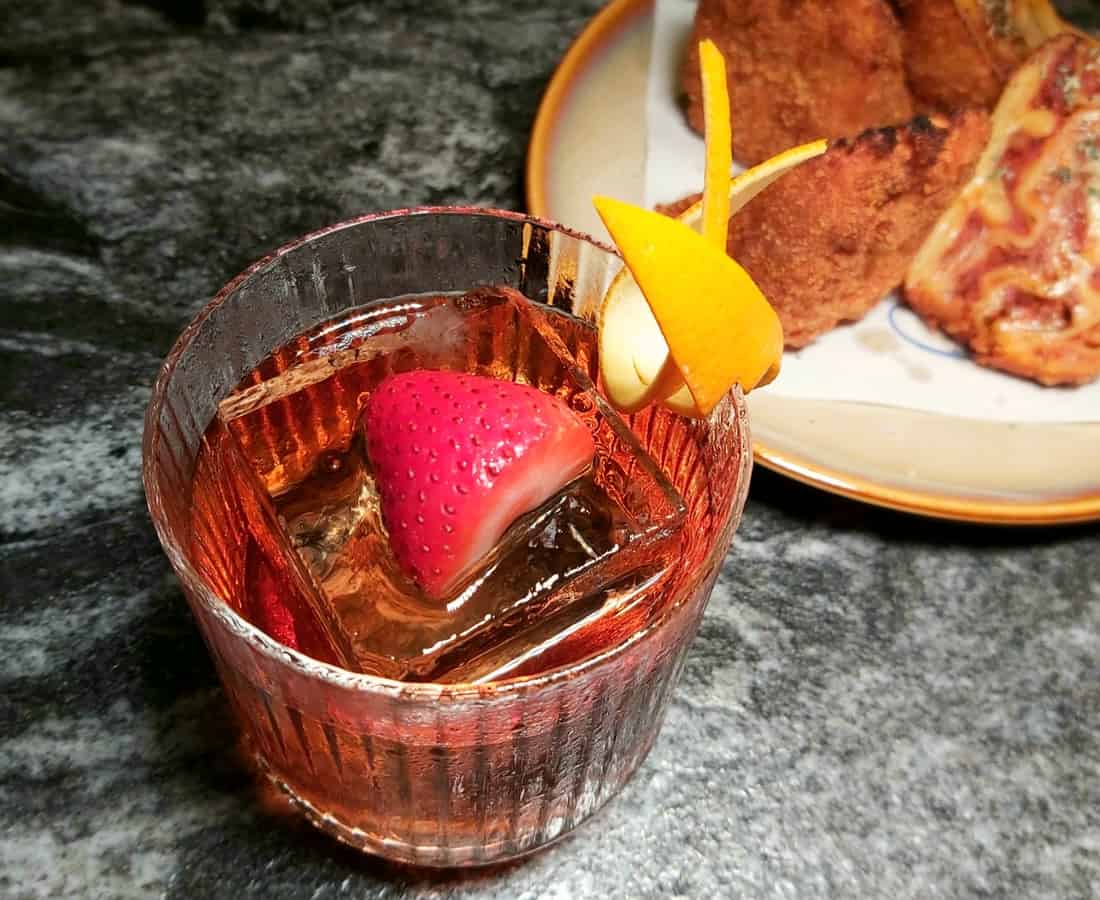 The house cocktails take the ABV up a notch, just like the pleasure. Our eye is drawn to the Hawaiian ($ 23), supposedly a liquid version of the pizza classic. But with its rich spice blend of rye, pear and pineapple topped with a creamy cheese mousse and apple crumble, it ends up looking and tasting like a Christmas Starbucks latte – and we mean it in the best possible way.
The Manly Glass ($ 23) arrives far from stereotypically masculine, with its rosy-pink concoction of Citadelle Gin and sweet vermouth topped with a strawberry. But be forewarned – topped with a dash of sherry, it packs a summery, edgy punch.
Martinis, needless to say, are potent as well. Our Silky Wise Crack ($ 25) is a triple threat of gin, dry vermouth and sherry, complemented by herbal notes of sage and elderflower.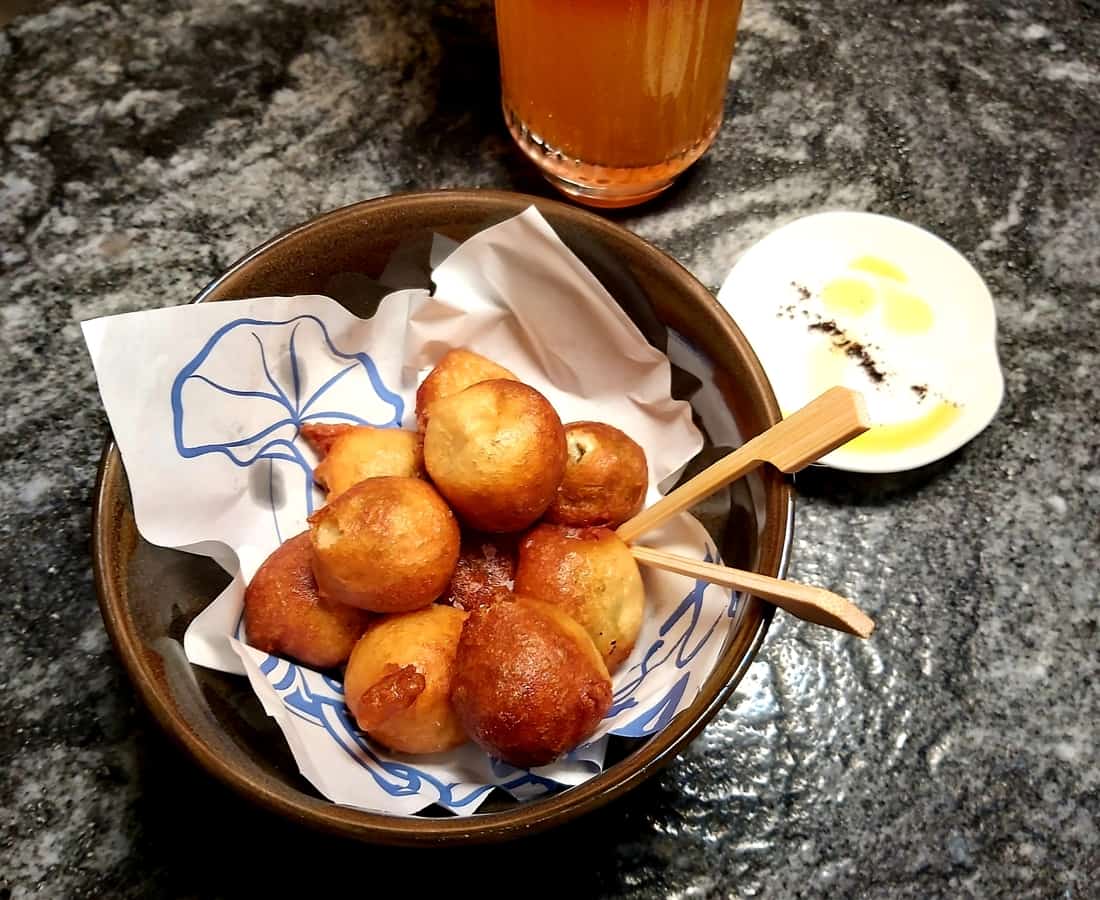 Bar food here without a second thought – think comforting Italian food with an irreverent twist. For appetizers, you'll find olives ($ 12) stuffed with goat cheese, then beer-battered and fried to form a juicy, brackish bomb.
Another fried number, the homemade lasagna ($ 14) has a layer of crisp, charred breadcrumbs, resulting in a dense brick of pure sin. Balance the fatty dish with Bitter Leaf ($ 12) – a salad of radicchio and endive, balanced with sweet chunks of pear and funky blue cheese.
But it's the sourdough pizzas that really steal the show. Created by Andrei Soen and Matt Kuhnemann of Park Bench Deli, these hand-kneaded pies are brushed with brown butter and baked to ten inches of glorious chewiness – neither too airy nor too dense.
The selection of nine products is divided into red and white bases, ranging from classics to more funky trims. Most of the options are more vegetarian, but the team plans to offer meat supplements in the future.
Pepperoni ($ 18), for one, is a classic generously filled with pepperoni and Parmesan shavings – if you like pizza for the crust and toppings, Nemesis has perfected the relationship in our books.
For something more cheeky, the Potato ($ 18) stacks the carbs on top of the carbs with a chewy crust topped with creamy potato salad and bechamel sauce, with a dash of crispy pickled onions. It's carb heaven in a bar – better, we hope, a lot of pizza places could serve.
Nemesis is located at 37 Duxton Hill, Singapore 089615, p. +65 8028 3697. Open Tuesday to Saturday from 5.30 p.m. to 10.30 p.m. Closed Sun and Mon.
This article first appeared in Nomads of the city.