Two Valley artists have set up a shop to help other creators reach their ideal audience – and an artist from Hanford recently joined the collective.
"We're kind of an art gallery and apothecary," Hilton said. "We have skincare products and things like that, and art and jewelry. People who shop here are interested in a lot of different things."
The boutique sells metaphysical supplies, fashion accessories, and designer artwork from across the valley, as well as jewelry, crystals, handbags, and perhaps the store's most popular item: stickers.
The duo were selling their art at various outdoor events when they realized that a permanent showcase would allow them to sell a wider variety of things to a larger group of collaborators. When the spot at 3200 S. Fairway St., Suite A, opened up in Visalia, the duo jumped on it. Despite being in the midst of the COVID pandemic, the store has quickly attracted regular and repeat customers, some of whom are keeping a close eye on new pieces.
Some works are being claimed almost as fast as they go up, including a handful of new paintings by local artist Scarlet, which were purchased days after being hung earlier this week.
Martino said being able to interact with people who buy his art makes the experience even more satisfying. She mentioned that a client recently saved up for a month to buy an artwork she had in mind.
"She just arrived a few minutes ago and bought it. The fact that I was here and got to meet her meant the world to me," she said. "The fact that she loved my art and was inspired enough by my art to save up and have it in her home – it gives me goosebumps."
Currently Moonstone Emporium sells the work of 28 regional artists. Most artists hail from Tulare and Fresno counties, but others come even further afield.
The Hanford artist who goes by the name Cue started collaborating with Moonstone earlier this month after hearing about the store from their wife, who is a regular customer. At his suggestion, Cue asked to join the collective and rent space for personal artwork.
"Cue's art is unique, we don't have anything else like it here. Nobody else ties Celtic knots," Hilton said.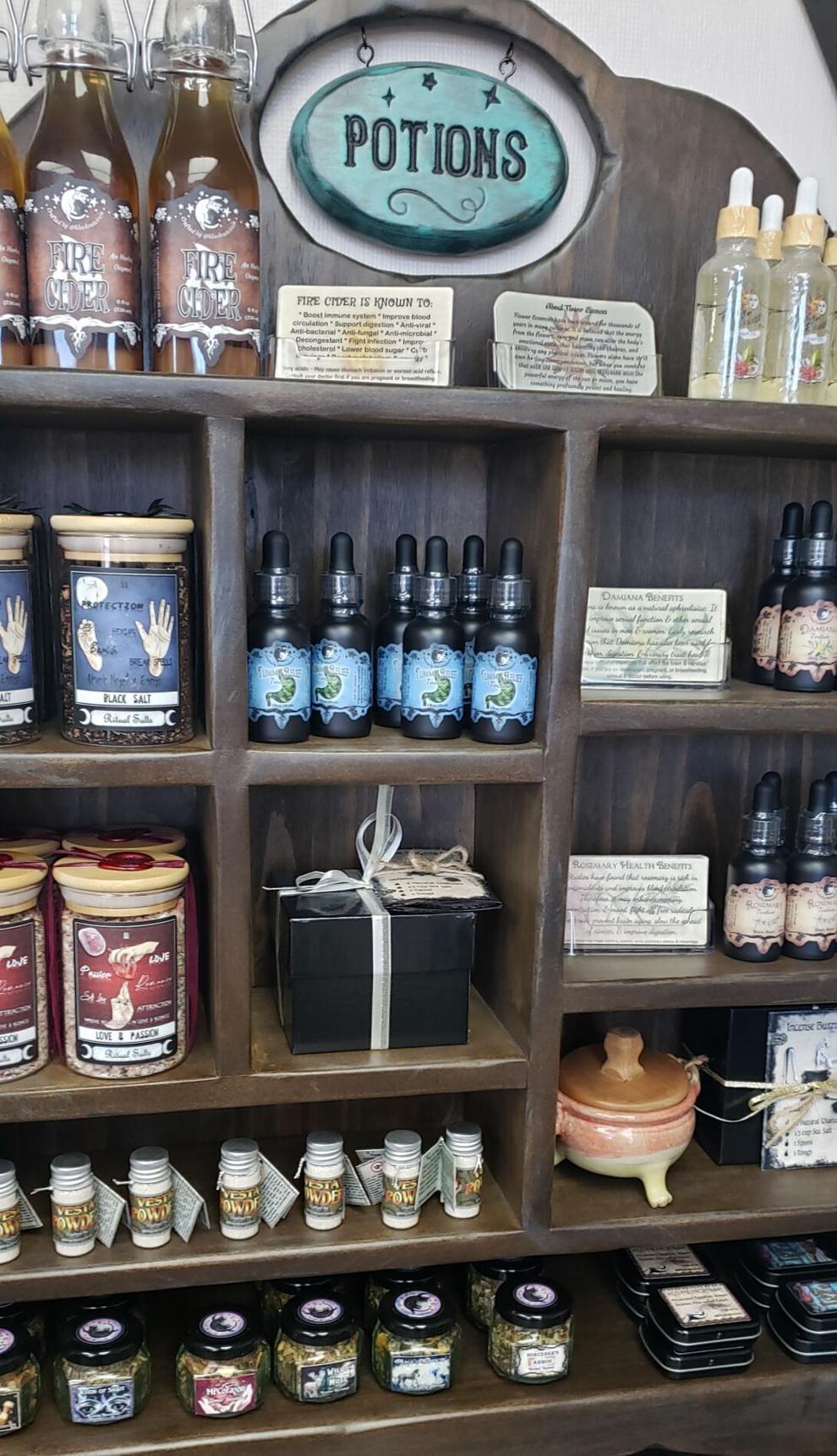 Cue, who has lived in Hanford for about 17 years, began creating Celtic knots around 1997. Celtic knots are a style of endless intertwining patterns used for decoration. The style is particularly linked to 8th century Christian art.
They can be sculpted, woven, drawn or, like most of Cue's work, created digitally. The artist came to this style after encountering it while attending Renaissance festivals in Hanford and around the Valley in his youth.
"I have always had a connection with Celtic culture by going to Renaissance fairs. My family was involved in those," Cue said.
The Moonstone Emporium will be hosting a Summer Solstice Celebration Sale from 10 a.m. to 6 p.m. on Saturday, June 18. Most items will be 10% off and giveaways will also take place.
For more information on the Moonstone Emporium, visit https://moonstoneemporium.com or call 697-5373. Store hours are 12 p.m. to 6 p.m. Tuesday through Friday and 12 p.m. to 4 p.m. Saturday.