LINCOLN SQUARE — Owners of a Lincoln Square hair salon and art gallery are christening their new location this weekend with their first in-person reception since the pandemic began.
Reverend Billy and Amanda Simmons, a married couple, opened Rev. Billy's Chop Shop at 4314 N. Lincoln Ave. in 2014. They moved a few blocks west to 2424 W. Montrose Ave.
The opening reception at the Chop Shop for the artist Erin Garrity Duffey will go 7-9:30 p.m. Sunday and double as a grand opening for the show's new location, said Amanda Simmons.
The salon half of the business – the Chop Shop – specializes in daring rock 'n' roll style haircuts, including chops, bright colors and extensions that wouldn't be out of place on a stage during a show. a music festival like Pitchfork or Riot Fest, the couple said.
Billy Simmons started playing guitar when he was 9 years old. Before opening the business with his wife, he was a session guitarist and had been touring since he was 16, he said.
When the business first opened, friends who Billy Simmons used to play in bands with stopped in for a haircut when they learned he was behind the chair. Since then, news of his skills has spread to others in the music scene, and they have become regulars at Chop Shop, he said.
"When you're a musician or any artist, you're broke most of the time. You can't afford anything. But I can offer them several services, which they needed, at a reasonable price," said Billy Simmons.
Some of Billy Simmons' regulars even come from Michigan and Wisconsin to have their hair done for him, Amanda Simmons said.
"Word of mouth is everything to us because we don't do a lot of heavy marketing," Amanda Simmons said. "I think what really resonates with our customers is that we're not the type of salon that just walks people in and out."
The couple also pride themselves on having an inclusive environment with gender neutral pricing in their services.
"We're much more focused on building community and friendship with everyone who sits in our chairs," Amanda Simmons said.
The other part of the company's name – Reverend Billy – comes from the fact that Billy Simmons is an ordained minister and Doctor of Divinity, the couple said.
Billy Simmons became a minister after being involved in a motorcycle accident around 20 years ago. During three months of recovery, he grew tired of watching television, he said. He always had an interest in theology and thought he would "go down a rabbit hole", which eventually led him to find an online course where he could become a minister, he said. declared.
"I love religion. I love theology and all that. I just think it's amazing. I'm still curious about it, even though I don't believe in many of its components," he said.
People are asking if Billy Simmons is actually a Reverend – and are surprised when the couple say 'yes', Amanda Simmons has claimed.
"He married two of our friends in the living room, which was kind of fun," Amanda Simmons said.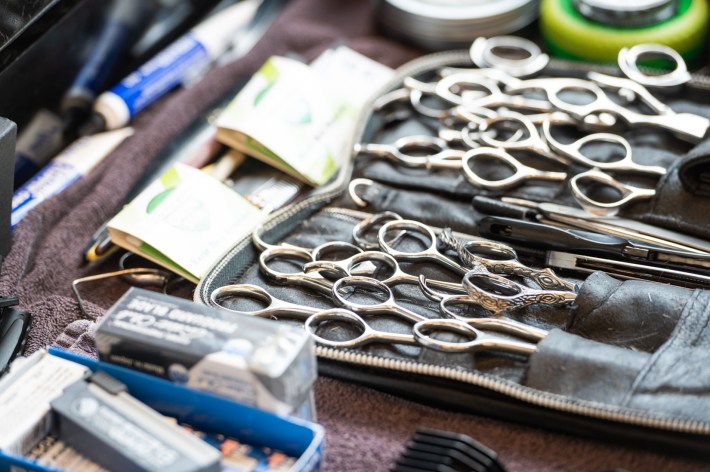 After nearly eight years in business, it was time to step up a gear. The Lincoln Avenue space has proven to be too small, limiting the number of people who can be indoors and socially distancing during the pandemic, Amanda Simmons said.
"Going forward, we knew we were going to need that extra space. It's also just an older building, and we needed something fresh and new to take our business to the next level," she said.
Anyone walking past the new Montrose Avenue store can see the company's red and yellow neon sign in one of the windows. Inside there is a large ceiling mural of the artist's Chicago flag Jean Airo.
Since her move, Amanda Simmons has joked with passers-by who don't know the salon and think the business is an auto repair shop or barbecue because of its name, she said.
Although the company doesn't serve ribs, its name is inspired by hot rod car culture and the idea of ​​taking old cars apart and putting them back together, said Billy Simmons.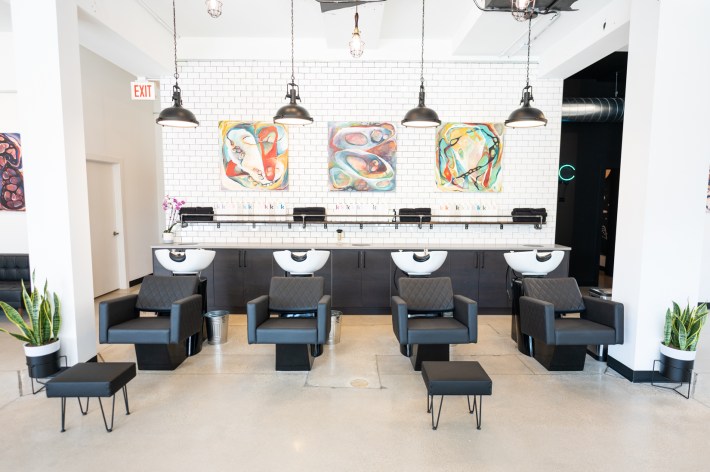 The art gallery has always been integrated into the business, with the majority of featured artists being friends or Chicago-based designers, Amanda Simmons said.
The couple rotate artwork at the show every two months and take no commission for artwork sold, Amanda Simmons said.
"The artist obviously creates this art, so we think we shouldn't pocket all of that. It's just a great way for us to support the Chicago artist community," said Amanda Simmons.
Listen to "It's Alright: A Block Club Chicago Podcast":